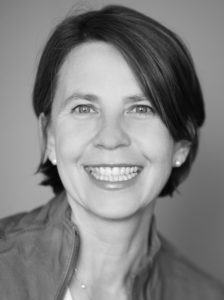 Anja Stöffler
Mainz University
Professor for Digital Design (moving image)
Head of the Institute for Media Design
Prof. Anja Stöffler has been teaching digital design for the at Mainz University since 2001. She currently heads the Institute for Media Design. Among her other responsibilities, she researches and implements projects for museums as well as for the film and media industries. In addition, she has made a name in the realm of animation for digital, dynamic media as well as moving typography/motion graphics in particular, including the already frequently displayed and distinguished retrospective exhibition Moving Types – Letters in Motion. Her emphases for instruction and research comprise applied and experimental structuring solutions with consideration of the moving image and motion design for various output media and output dimensions. She is the curator in the area of practical art and takes responsibility for the international media festival, "MOTYF – Gutenberg goes Media" 2016 in Mainz and Warsaw. Before she was appointed at Mainz, the Communication Design major held management positions at renowned television stations such as RTL, Arte, Nickelodeon and ZDF. Additionally, she was the Experience Network Lead at Razorfish, Germany. In Mainz she occupied the direction of the Media Design program (Time-based Design) with the core competencies "Film/Video Interaction and 2d/3d animation". During this time, the program was expanded and the number of students doubled. Prof. Stöffler and Prof. Ralf Dringenberg both direct the z zg – Zentrum Zeitbasierte Gestaltung (Centre for Time Based Design), which they co-founded in 2010 at the FH Mainz (now Mainz University) and the University of Applied Science Schwäbisch Gmünd.
Moving Types – Archive of visual communication
Presentation of the archive and selected student works. The "core" of the z zg is the comprehensive and unique archive, "Time-based Typography – Moving Types". Currently containing over 800 visual examples of animated typefaces and letters in film, advertising, on the internet and in public space – encompassing the inception film up to the networked and multidimensional design solutions of our times (VR/AR). In addition, the archive contains interviews conducted with protagonists of this scene. Consequentially, the archive is both a highly respected state-of-the-art compendium and who's who of the industry; as well as a frequently cited history of visual animation from the bygone 19th century up to the beginning of the 21st century.