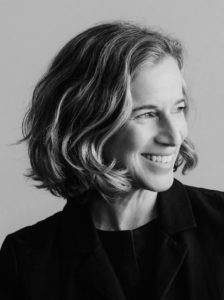 Lisa Strausfeld
Principal of Informationart
Researcher at The New School, New York
Lisa Strausfeld is an information architect, data visualization entrepreneur and principal of Informationart. She currently holds a senior research position at The New School, where her focus is on envisioning a better future for our day-to-day information experiences.
From 2015 to 2017 Lisa served as Acting Global Creative Director of the Gallup Organization. Previously, she spent 3 years at Bloomberg LP, first as Global Head of Data Visualization and then as Creative Director of Bloomberg View. She built and led Bloomberg's first data visualization team dedicated to creating a new genre of editorially driven interactive data products for Bloomberg's consumer audience.
Prior to Bloomberg, Lisa was a partner at Pentagram from 2002 to 2011 where she built a practice around digital information projects including the design of large-scale media installations, software prototypes and user interfaces, signage and websites. Her clients included One Laptop per Child, GE, the Museum of Arts and Design, Bloomberg LP, MIT and the New York Times. Lisa left Pentagram to launch Major League Politics, a startup that measures and visualizes government activity with the goal of civic entertainment.
Lisa received the 2010 Cooper Hewitt National Design Award for Interaction Design. She holds four patents related to user interfaces, has been a Senior Scientist at the Gallup Organization since 2006 and has taught interactive design at the Yale School of Art and at NYU's ITP program. Lisa has a BA from Brown in art history and computer science, an M Arch in architecture from Harvard and an MS from the MIT Media Lab.
Immersive Typography
Virtual Reality is allowing us to travel to places created by filmmakers, artists, illustrators, and gamers — destinations on earth that are difficult to access or entirely new worlds of art and fantasy. This talk will focus on a new VR project that allows us to travel through a world of knowledge. Constructed entirely from type and simple geometry, this world is a three dimensional time-based network visualization of historical information. The content comes from The New Historia, a dynamic and growing collection of historical women and their work based on an updated version of Mary Hays' Female Biography collection (first published in 1803, and updated in 2014).
In this talk, Lisa will discuss the potential for a new kind of learning — one that is immersive and embodied — and a possible future direction for design and typography.